Welcome to (International Stories). In this story, we will discuss 10 Good relationship of brother and sister. I hope you will like this history incident.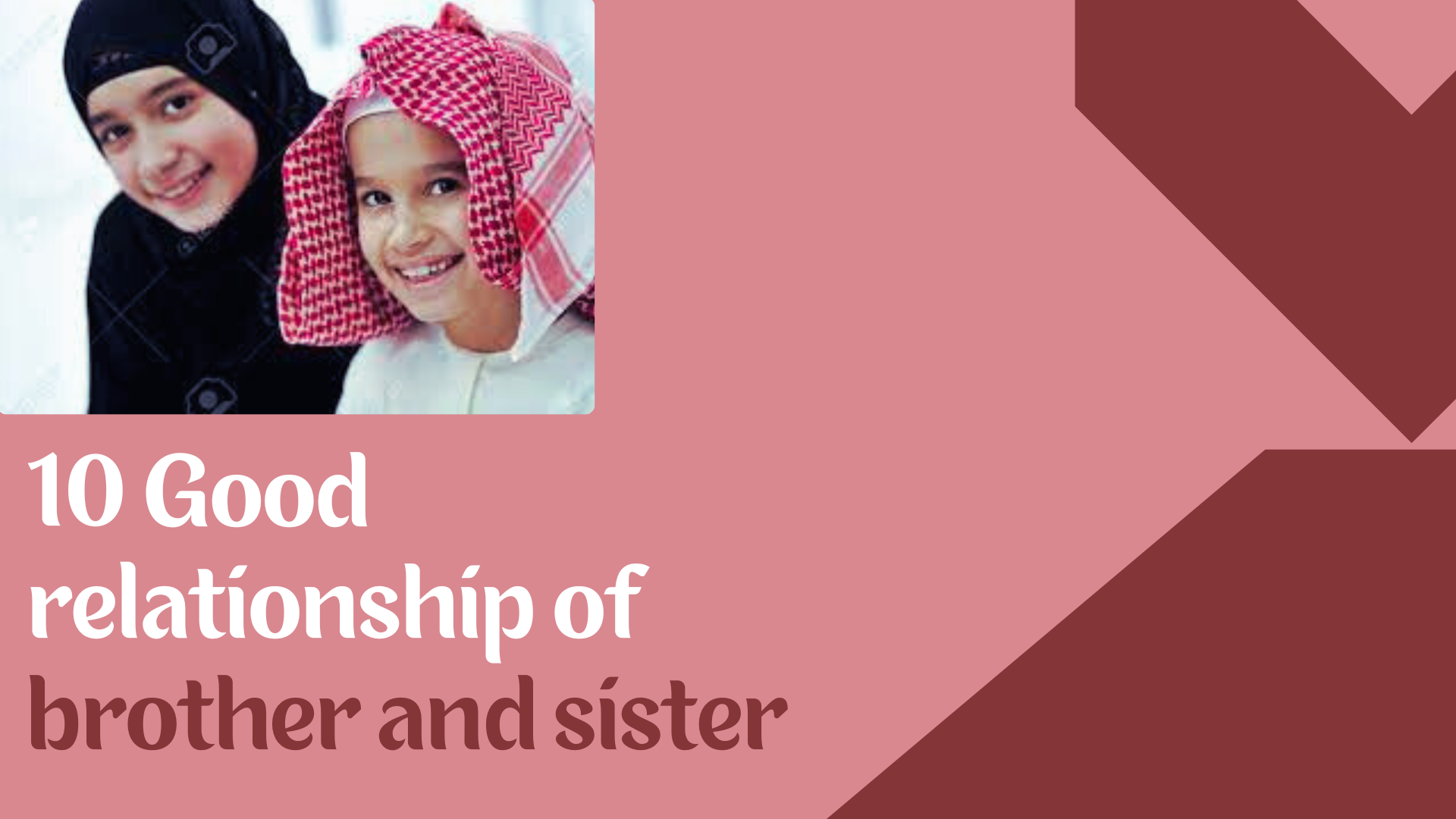 10 Good relationship of brother and sister
A "10 Good relationship of brother and sister" can be characterized by love, respect, support, and understanding. Here are ten qualities that often define a strong bond between siblings:
Love and Affection: A good connection between siblings is built on the basis of true affection and love for one another.
Trust: Trusting each other's intentions and being able to rely on one another builds a strong sibling bond.
Communication: Open and honest communication helps siblings understand each other better, resolve conflicts, and maintain a healthy relationship.
Respect: Respecting each other's opinions, boundaries, and individuality is crucial for a good sibling relationship.
Support: Being there for each other through thick and thin, offering emotional support, and celebrating each other's successes strengthens the sibling bond.
Shared Interests: Having common interests, hobbies, or activities that siblings can enjoy together promotes a sense of camaraderie and shared experiences.
Empathy and Understanding: Being empathetic and understanding towards each other's perspectives and emotions fosters a deeper connection between siblings.
Forgiveness: Siblings who can forgive each other's mistakes and let go of past grievances can maintain a healthy and long-lasting relationship.
Laughter and Fun: Sharing laughter, inside jokes, and creating fun memories together can create a lighthearted atmosphere and strengthen the sibling bond.
Independence and Boundaries: Respecting each other's independence, personal space, and boundaries allows siblings to grow as individuals while still supporting each other.
Remember, every sibling relationship is unique, and what makes a good relationship can vary from one pair to another. These qualities can serve as a general guideline for fostering a positive and loving brother-sister bond.
Prophet Muhammad Sister Syeda Shayma
Although the Prophet did not have a sister, Syeda Halima Sa'adia makes reference of a foster sister of the Prophet who used to give you lorries. Her name was Syeda Shayma .
In the evening, when women are busy cooking, the sisters carry their brothers out and every sister would think that my brother is the most handsome of all time..
Girls pick up their brothers in Binousaad's neighborhood. One says there is no one like my brother and the other says there is nobody like my brother.
Syeda Shayma would have picked up her brother Syedna Muhammad سےل سے الله عليه وسلم and said from a distance that my brother has also come, everyone would have bowed their heads and everyone would have said, no no, no, nobody can compete with your brother, we are each other. Talking…
Ibn Hisham is the first book of Seerat, in it this incident is written that ……
Syeda Shayma would take the Holy Prophet ٹل ٹ الله عليه وسلم in her lap and then swing it, and then she would give a lullaby and wrote the words of the lullaby which are translated.
O' our Lord, keep my brother Muhammad safe. Today he is the leader of children in the cradle, tomorrow he will be the leader of the youth and then they will be happy.
When the Holy Prophet travelled to Mecca, Syeda Shayma also started to grow older at that point. She also got married in a tribe. The Holy Prophet اล ا الله عله عليح وسلم announced prophecy. The time of thirteen years has passed and you آپل اللهالله عليห وسلم Peace be upon him arrived in Madina.
Muslims and the tribe Syeda Shayma was married to engaged in a series of conflicts. Allah, the Lord of Glory, granted victory to the Muslims, so some people of that tribe were arrested by the Companions of the Prophet (PBUH).
Once they were finished, they began obtaining a ransom to free their hostages, and the tribal chiefs were also extorting money from residents door to door of Syeda Shayma, who had spent a certain part of her life, said that this is your portion too.
Syeda Shayma said, what is the part for?
People said that there has been a fight and our men have been arrested. While they were talking, when the name of Muhammad نامل لوگوں الله عليه وسلم came on their lips, Syeda Shayma heard and said, "Okay, have they arrested your people?"
Said … YES
Syeda Shayma said, stop collecting money and take me with you.
The Sardar said, should I take you with me?
Syeda Shayma said, "Yes, you don't know, he looks like my brother."
When Syeda Shayma was going with the chief of the tribe towards the Noori tents of the Prophet کل جا الله عليه وسلم and the Companions were guarding them with bare swords, he was in Madni era.
When Syeda SShayma started moving forward with the leaders of the nation, the Companions of the Prophet (peace be upon him) heard swords and called out.
Hey village woman, stop, don't you see, the street of the Prophet گےل ہ الله عليه وسلم is ahead. You can't even go forward without permission. Who are you?
The Urdu translation of the words Syeda Shayma said in reply is … Leave my ways, you don't know that I look like the sister of your Prophet تمل وسلم الله عليه وسلم.
Swords bowed down, eyelashes came on the eyes, the path was abandoned.
When Syeda Shayma entered the tent of light, the Prophet saw and recognized. Immediately stood up and said, sister, how are you coming? Happened?
You said that the people of کہال بند الله عليه وسلم have captured some of our servants, I have come to rescue them.
The Prophet لیکنل ص الله عليه وسلم said, Sister, why did you bother? You should have sent the message, I would have left it, but you came, it was good that we met.
Then the Holy Prophet آتیل حضور الله عليه وسلم announced to release the prisoners. Gift some horses and a few pairs to Syeda Shayma because when the sisters come to the door of the brothers, the brothers do not return the sisters empty handed.
The crowd of the Companions was waiting when the Prophet walked out of the tent to say goodbye after bestowing much.
Said, O Companions! You know that whenever I release a prisoner I have a habit of consulting you but today a chance came that I did not consult you and I also released the prisoners
The Companions of Prophet Muhammad (PBUH) said, why didn't the Prophet (PBUH)? At least say it.
Said my sister came to my door today.
Brother and sister relation according to islam
Islam places a great priority on and promotes relationships between brothers and sisters. Islam places a high value on preserving close family relationships and treating one another with respect and love. Islam places a strong emphasis on the bond between brothers and sisters.
Mutual Respect: Islam teaches that brothers and sisters should respect and honor one another. This includes avoiding any form of physical or verbal abuse and treating each other with kindness, empathy, and understanding.
Love and Affection: Islam encourages brothers and sisters to love and care for each other. Expressing love, affection, and support within the bounds of Islamic teachings helps strengthen the bond between siblings.
Sibling Responsibility: Islam emphasizes the concept of responsibility towards siblings. Older siblings are encouraged to be good role models and provide guidance and support to their younger siblings. Younger siblings are encouraged to show respect and obedience to their older siblings.
Maintaining Chastity: Islam encourages modesty and stresses the significance of upholding acceptable boundaries between siblings of different sexes. Physical contact between brothers and sisters should be limited to what is necessary, such as shaking hands or hugging in certain circumstances, while observing modesty and maintaining Islamic principles.
Mutual Help and Cooperation: Islam encourages siblings to assist and cooperate with one another. Siblings are encouraged to support one another, whether it is by delivering emotional support, helping with everyday tasks, or offering financial support when necessary.
Supplication and Prayers: Muslims are encouraged to include their siblings in their supplications and prayers. Praying for the well-being, success, and guidance of siblings is considered a virtuous act in Islam.
It's crucial to keep in mind that Muslim communities across the world may have different cultural customs and traditions, and that particular family dynamics might affect how well siblings get along. However, the broader ideas outlined above provide an overview of the aspirations of the brother and sister relationship as per Islamic beliefs.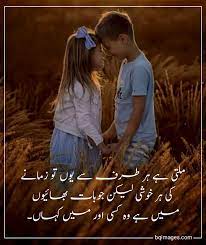 Brother and sister love quotes
"A sister is a gift from the heart, but a brother is a friend given by nature." – Not known
"There is no better friend than a sister. And you are the best sister there is. – Not known
"Brothers and sisters are as closely related as hands and feet." – A proverb from Vietnam
"A brother may or may not always be a perfect friend, but he will always be a perfect brother." – Not known
"Having a sister is like having an unbreakable best friend. You know whatever you do, they'll still be there." – Amy Li
"Brothers and sisters are the truest, purest kind of love, family, and friendship because they know when to support you and when to push you while still being a part of you" – Carol Ann Albright-Eastma
"A sister is both your mirror – and your opposite." – Elizabeth Fishel
"A sibling may be the guardian of one's identity, the sole holder of the keys to one's freer, more unrestrained self." Mary Sandmaier
"Brothers and sisters are like stars. You may not always see them, but you know they're always there." – Unknown"A sister is a little bit of childhood that can never be lost." – Marion C. Garretty
Keep in mind that these sayings honour the relationship between siblings and may be applied to expressing affection and respect for one another.
CONCLUSION:
The relationship between brothers and sisters is a unique and special bond that is often characterized by love, support, and shared experiences. Throughout life, siblings can play various roles for each other, such as confidants, mentors, and friends. This relationship can be both joyful and challenging, as siblings may have different personalities, interests, and viewpoints. However, the connection between brothers and sisters often remains strong, regardless of the ups and downs they may experience.
Brothers and sisters have the opportunity to grow up together, sharing childhood memories, family traditions, and a common upbringing. They may engage in sibling rivalry and competition, but these experiences can also foster resilience, conflict resolution skills, and personal growth. Siblings can learn valuable lessons from each other, including cooperation, compromise, and empathy.
As siblings mature into adulthood, their relationship may evolve. They may become pillars of support for each other during challenging times, providing emotional comfort, advice, and encouragement. Brothers and sisters can serve as lifelong allies, celebrating each other's successes and offering a shoulder to lean on in times of difficulty. The shared history and understanding built over the years can create a deep bond that is hard to replicate with anyone else.
While the relationship between brothers and sisters can be complex, with its fair share of disagreements and conflicts, it often remains one of the longest-lasting connections in a person's life. Siblings may take care of one another and provide the family a sense of continuity and belonging.
In conclusion, the relationship between brothers and sisters is a blend of love, companionship, support, and occasional challenges. It is a bond that can withstand the test of time, serving as a source of lifelong connection and comfort.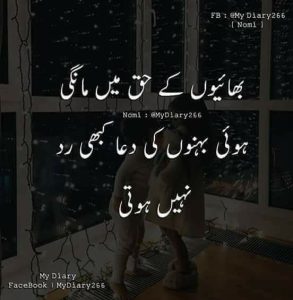 FAQ:
What is the good relationship of brother and sister?
The relationship between a brother and sister can be a unique and special bond characterized by love, support, and companionship. Here are some aspects that contribute to a good relationship between siblings:
Love and Care: A strong sibling relationship is built on a foundation of love and care. Brothers and sisters who genuinely care for each other's well-being and happiness tend to have a positive and fulfilling relationship.
Mutual Support: Siblings often provide support to each other through life's ups and downs. They can be a source of emotional support, offering guidance, encouragement, and a listening ear when needed. Supporting each other's goals, dreams, and aspirations also strengthens the bond.
Shared Experiences: Growing up together and sharing experiences creates a unique connection between siblings. They often have a deep understanding of each other's background, family dynamics, and shared memories, which can foster a sense of camaraderie.
Trust and Dependability: Dependability and trust are essential components of every relationship, including those between siblings.
When brothers and sisters can rely on each other and maintain trust, it strengthens their bond and allows them to lean on one another in times of need.
Respect and Acceptance: Respecting each other's individuality and differences is crucial in maintaining a healthy sibling relationship. It's important to accept one another for who they are, including their strengths, weaknesses, and unique personality traits.
Communication and Conflict Resolution: Open and honest communication is essential for a good sibling relationship. Being able to express thoughts, feelings, and concerns openly helps in resolving conflicts, preventing misunderstandings, and building stronger connections.
Fun and Shared Activities: Enjoying shared activities and having fun together can create lasting memories and strengthen the bond between siblings. Whether it's participating in hobbies, playing games, or going on adventures, these shared experiences can contribute to a positive relationship.
Remember that every sibling relationship is unique, and the dynamics can vary from family to family. It's essential to nurture the relationship, invest time and effort, and prioritize the connection to maintain a healthy and loving bond between brothers and sisters.
When a brother and sister arrive together, what is the term used?
When a brother and sister engage in a romantic or sexual relationship, it is referred to as incest. Incest is generally considered taboo in most cultures and is often illegal due to the potential genetic and psychological risks associated with close family members having offspring. Laws regarding incest vary across different jurisdictions. It's important to note that engaging in incestuous relationships is widely condemned and discouraged due to ethical, moral, and legal reasons.
What if brother and sister have a baby?
If a brother and sister have a baby together, it would be considered an instance of incestuous reproduction. In most societies and legal systems, incest is considered taboo and is prohibited due to the potential negative consequences that can arise from such relationships.
Biologically, the offspring of siblings have a higher risk of inheriting genetic disorders or abnormalities compared to children born to unrelated parents. This is because siblings are more likely to carry similar recessive genetic traits, and when they have a child together, there is a higher chance of those recessive traits being expressed.
In many jurisdictions, incestuous relationships, including those between siblings, are illegal due to ethical, social, and medical concerns. The laws and penalties regarding incest vary between different countries and states. Engaging in such a relationship can lead to criminal charges and legal consequences.
It is important to note that the information provided here is based on societal norms and general understanding. Cultural and legal attitudes towards incest can differ, so it's essential to consider the specific context and legal framework of the region in question.